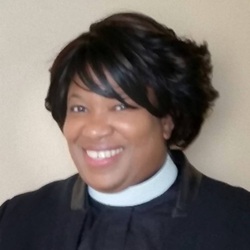 Pastor/Prophetess/Evangelist
Maureen Chen Daley
was born on the beautiful Island of Jamaica where she was first introduced to Christ from a very young age by her late grand-aunt Rosena Murray. She attended Somerton Baptist church regularly until she moved to Toronto, Canada just before her sixteenth birthday. She continued her passion for the church by becoming a member of Bethlehem United Apostolic Church where she was baptized at age 16 after shifting from being a churchgoer to developing a personal relationship with God.
Pastor Maureen has held various roles in the church which included being a choir-member, children's ministry and women's ministry. In June 2004 after intensive studying and completing numerous exams, she received her certificate as a Lay Leader to minister as an Evangelist at Kennedy Road Tabernacle. Since then she has been ordained as Prophetic-Evangelist and Pastor for Simple Words Ministry. In 2009 she was awarded an Honorary Doctorate by Omega Bible Institute and Seminary.
She is the founder of Simple Words Ministry where she believes in ministering the Word of God simply and effectively to reach everyone. God has given her the privilege of hosting SWM Prayer line which has grown to hosting services nine times per week. Pastor Maureen's preaching style is said to be "dynamic" and a "power-house". Pastor Maureen has been blessed to preach the gospel and minister in various functions, church services, revivals, seminars and conferences in Canada, the United States, Africa and the Caribbean where many souls have accepted Jesus Christ as LORD and received the gift of the Holy Spirit.
Her recently published book, "Exercising the Power of the Tongue," has already received positive reviews on Amazon. She's currently working on another soon to be released book on Effective Prayers. She has also written various articles and songs which have been published in on various blogs and social networks and is a contributing writer for Soulful Image Magazine.
Pastor Maureen attends Greater Highway Redemption Ministries under the leadership of Bishop Carlton Facey where she serves as Pastor and President of the Women of Virtue Ministry. She is also affiliated with Bride of Christ Church Ministries under the leadership of Dr. Benjamin Rucker.
She is a preacher and follower of Proverbs 18:21, "The tongue has the power of life and death, and those who love it will eat its fruit." Pastor Maureen is truly an encourager who speaks life into all circumstances. One encounter with her and you will never be the same.
You can hear her weekly on Talk Shoe Radio at
www.talkshoe.com/tc/90944
or via the prayer line by dialing 712-432-0075, access code 671965#. For more information, scheduling or partnering with Pastor Maureen, please visit her website at
www.simplewordsministries.com
.
---
Would you like to know where Pastor Maureen Chen Daley will be speaking next? See Events page